PLATINUM GUIDE: Platinum History | Platinum Purity | Platinum Alloys | Platinum Stamping
RESOURCES: Bracelet Types | Choosing Bracelets | Chain Types | Choosing Chains
A platinum chain or bracelet adds style to anything she wears. Chains and bracelets go with everything. A fine platinum chain will add just a touch of shine. Consider giving her a 18-inch, platinum chain to add an element of visual interest to her wardrobe. When selecting a chain or pendant, consider that the length will determine where it will lie on her chest. Remember that longer lengths accentuate the bust while shorter lengths feature the beautiful lines of her neck. Bracelets are usually worn on occasions when she isn't working with her hands. Even when not working, a bracelet's proximity to the hands causes it to get bumped and banged, so it must be very durable. Jewelry designers take this into account, so you can be sure the bracelet you choose will last. Bracelets are available in different lengths. So before you purchase, be sure to measure one of her other bracelets to be sure she doesn't need a special length. You'll find a variety of chain designs, like the traditional snake or wheat chain, in a variety of metals like platinum and platinum & 18k gold.

Machine Made Chains Bracelets
Are these chains & bracelets machine made or casted? Cast jewelry is the most common type because casting is least expensive and still allows a variety of design and texture. Cast items are more porous and less durable than die-struck jewelry. Machine made refers to mechanically created jewelry. Our chains & bracelets are machine made and are impoted from Italy.

Platinum Facts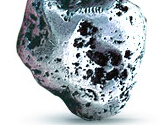 Platinum is usually alloyed with other metals- ruthenium or iridium -at 95 parts to 100. We offer platinum chains & bracelets in platinum ruthenium and platinum irridium alloy. We prefer platinum iridium alloy because iridium is harder and expensive than ruthenium. It is also important in the automated manufacture of products such as chains because softer alloys place less wear on the forming machinery. Components such as spring catches,however, have to be made from harder alloys that can withstand the stresses placed upon them in use. View Details.
Platinum Stamping
What are the marks inside my platinum jewelry? You're familiar with the gold standard, where 24k = 100%. The platinum standard is based on parts per thousand, where 1000 parts = 100%. All platinum alloys are derived from this standard. The two most common platinum alloys found in the US. 95%. View Details.

Shipping Questions
How long to ship these chains & bracelets? 14-21 days. Some items are discontinued without notice. We try to ship something very close to it then.

Return Policy Questions
If you decide for any reason that it is not right for you, you can return it to us within 30 days for a refund or replacement. View Details.